UPS Mail Innovations® is a UPS/USPS partnership for delivery of small parcels.
All packages leaving our fulfillment center are picked up by UPS and scanned into the local sorting facility. Within 24 hours in most cases, it is processed out to the closest UPS regional facility to your address, where it will be further sorted for USPS handling.
Eventually, your shipment is transferred to your local post office for final delivery in your daily mail.

This is an example of a Mail Innovations shipment.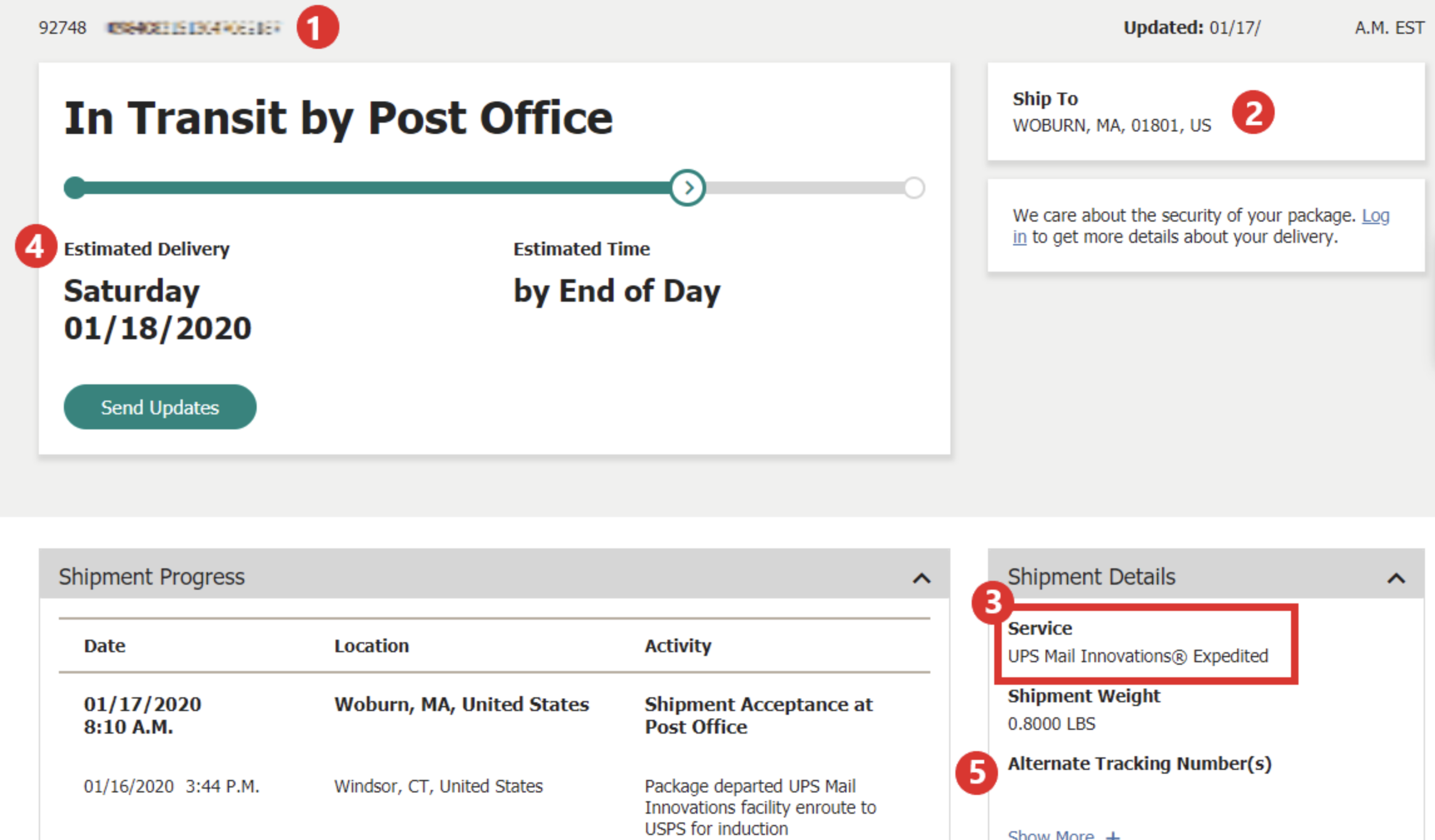 1. Tracking number
2. The ultimate destination of the package
3. Confirm the shipping method
4. This date is when it is expected at at the USPS receiving facility, not the final delivery to you.
5. Any alternate tracking numbers may appear here and can be used at USPS.com
How long does it take?
The total transit time from the time the shipment is picked up to the time it arrives to you is about 7-10 business days for the continental US, but this will depend on many factors, including the distance traveled.(Exceptions: Shipment times can be up to 20 business days for islands, and up to 45 days for APO/FPO boxes.)
UPS typically processes the shipment within 24 hours of pickup.
They will then send it to a UPS receiving facility closer to the destination, which takes 1-4 business days.
Once there, it will be further sorted for transfer to USPS, who will prepare it for final delivery. This can take 2-7 business days.
After the USPS acceptance scan occurs, the package normally arrives on the next delivery day.
What if I think my package is lost?
Thankfully, very few packages are lost in transit. However, updates are only available once someone with the courier services performs a scan, so you may see a few days pass between these updates. It is perfectly normal to see up to 8 business days pass between scans, particularly when it leaves UPS and is headed for the post office. (Business days are considered Monday-Friday, excluding shipping holidays.)
USPS issues your tracking number but allows UPS to share this number for the duration of the journey. The number can be used by both UPS.com and USPS.com, depending on the stage of transit. Make sure you are checking both websites for the most accurate information.
If more than 10 business days have passed since the last scan was performed, and you believe it may be lost, reach out to customer service via the contact form with your Funko.com order number, and we'll be happy to assist you.